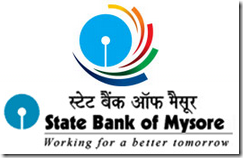 The post has customer care toll free number of State Bank Of Mysore for enquiry or asking for anything to solve your problem with State Bank Of Mysore in India, below toll free number can be used for free.
State Bank Of Mysore an Indian bank headquartered at Bengaluru. State Bank Of Mysore is associate bank of SBI established in 1913 and now has more than 976 branches and 10627 employees.
Below informations are about State Bank Of Mysore toll free number, you can use that number with having no issue, you can use that number to call in free and take any type of help from them.
Missed call balance enquiry number
REGSBM<SPACE>Account Number send it to 092234-88888
Mini statement 
09223866666
SBI (State Bank of India) Bank account balance check ussd codes  : 
* 99 * 41 #
State Bank Of Mysore Office Address:
State Bank of Mysore, 7th Floor, Head Office, K G  Road, Bangalore-560254.
State Bank Of Mysore Toll Free Number: 1800 425 2244
1800 425 2244
State Bank of Mysore Helpline Email ID
State Bank of Mysore (SBM) Customer Care Number:
080-22300020
State Bank of Mysore (SBM) Customer Care SMS Number:
9900020002